Fuck fuck fuck fuck fuuuuuuck! Evi's mind shouted as he sulked through the scar. Though his face didn't show any visual signs of difference as he meandered across the charred, corpse ridden land, he was, without a doubt, pissed off; it showed in his slouched poster and more aggressive than normal footsteps. He wasn't informed he would have to work with leader of Golden Phoenix.  You could see waves underneath his shirt from his back brisling and wanting to transform and rip something apart. He just wanted to kill this damned mage he was hired to kill and be done with it. This fucker was going to be the one who was going to be subjected to the boss's unbridled irritation and fury for having to work with a glorified chicken that had too many nice things all because they worked for the government.
 

Evi looked around and noticed a few footprints on the ground that was roughly human sized; a sign of life that wasn't one of the Lurkers that made their home here. "Oi, This way," Evi pointed as he started heading in that direction without regard for what Zelya was doing. A part of his mind was getting into a competitive spirit, a spirit of, 'I'll be the one to kill this mage and take the credit' kind of competitive. Not particularly beneficial to the group but the mindset he had nonetheless. "Katanagiri, Form," Evi muttered as his arms started to shift and transform, the bicep thinning out and his forearm and hands warping into sharp hooked blade.

__________
word count: 261
DP gain: 17




It was as though Zelya weren't currently walking through the second most dangerous place in Ozulon. The sound of cheerful humming was quite audible as the fiery pseudo kitsune walked through the valley of death known as The Scar. From their rendezvous point, her temporary partner had been somewhat unhappy seeming but his expression didn't reflect his body language. Zelya was requested to accompany him by the one who gave him the contract, and aside from Evi being the leader of some guild out in the swamps, she knew nothing about him. His guild was known for doing mercenary work, but their true alignment was difficult to classify since they were selective about which ones they took. Seemingly, she was unarmed aside from a dagger on her hip- something that was uncharacteristic of a wraith. Most would expect her to be carrying a staff, a wand, or a talisman of sort... something that channeled magic through it.

Zelya's ears twitched in all directions as the varying sounds of The Scar were heard. Evi had called the kitsune to his attention, something that made her look at him with an inquisitive look in her eyes while having one ear straight up and the other sideways. He had found footprints that were fairly fresh and provided direction to where their target was. Since there were a fair amount of them, some human sized some not, it was safe to assume the source was a group. Evi had used some strange form of magic to turn his arms into hooks, a trick that made Zelya blink a few times out of surprise. 'I wonder how long it took him to be able to control that... and if he ever cut himself while wiping up.' she thought. Her time of thinking was cut short when a small ambush had come against them. It was only five people: one dragonborn, two humans, a dwarf, and a glacite.

Zelya's eyes narrowed and the world stopped moving for her. 'Dragonborn are part dragon, their magical proficiency would make me an ineffective fighter against him. The humans could be taken out easily, our lack of any true niche makes us the best cannon fodder like that. The dwarf would be the best target, they're less concerned with magic so I have an advantage... but the glacite could be problematic. Her ice magic makes her just as good at neutralizing my spells as it does blocking Evi's attacks...' Just as fast as the world stopped for Zelya it also resumed and a bow formed in her left hand that she quickly loaded an arrow in and took aim at one of the humans. They were all convicts that Gladius had ordered to be killed and she didn't want to risk a war between cities because she felt like being merciful. The golden arrow shot straight through the first human and Zelya performed a backflip to dodge an incoming hammer swing from the dwarf. She wasn't concerned about looking cool or keeping score, to her this was just another job. Zelya loaded two arrows and fired them at the Glacite's feet, sticking the shoes and temporarily locking her in place to buy time while Evi and Zelya took out the other three.

Words: 543
DP: 45


Last edited by Relentless on Wed Jan 03, 2018 2:57 pm; edited 1 time in total
"Hm?" Evi looked over as they were ambushed by a group of five. It took Zelya only a moment as she killed one of the humans. A tick went off in Evi's mind as he got irritated that he had been one upped by Zelya getting the first kill. Evi quickly dispatched himself and charged right at the Glacite with zero hesitation. The glacite immediately put up a wall of ice as Evi charged and Evi barely took the time to slow down towards it. "Rip them apart, Kamaken," Evi muttered as he charged with his blade hands in front of him in the shape of an X. This was a feint however and right as Evi reached the glacial foe he stopped, as two long, fleshy tendrils sprang up out of his upper back and coiled around the small barrier of ice, at the end of each coil was a sharp, hooked bone, reminiscent of a sickle, with some other bones jutting out of the tendril. The glacite was able to dodge one tendril, but the other impaled the glacite in the neck.

The bone blades jutting out were hooked and serrated, and they stuck to whatever they stabbed, Evi lifted the glacite from the neck over his head before violently slamming the man down into the ground to force the corpse off of his organic sickle and chain. As Evi did this the human attack him tried to come up from behind with his broadsword and Evi merely sidestepped out of the way and impaled him in the back and through with his left blade arm, killing him as well. Evi removed the blade him the second enemy and looked at the dragonskin before him as both tendrils hooked around him to point at the reptilian foe, challenging it and daring it to take him on, mono-e-mono, monster to monster.

_______________________________
word count: 312
total words: 528
DP gain: 35


Evi had taken care of the glacite quickly, her being pinned in place made it so she wasn't able to move which seemed to be all the advantage that he needed. While Zelya did still think the altered body parts were a bit on the extreme side of creepy, she didn't let it show on her face. He had quickly disposed of a human who somehow thought stood a chance and was going to face off against the dragonkin. Zelya's magic was fire based, so against the scaled skin of a dragonkin she would be less effective. 'Guess the dwarf's mine.' she thought and quickly leaped back as the dwarf charged in for another hammer attack.

Zelya held her hand out and formed a ball of white fire that was around four feet in diameter, almost as tall as Zelya, and launched it. The dwarf proved to be more agile than she anticipated and quickly rolled out the way, making Zelya's Fire Blast miss entirely. She then saw the dwarf's hammer begin glowing bright red and it slammed it on the ground, sending a crescent shaped red wave her direction. Zelya held her hand out again and a circle of light appeared in front of it, expanding quickly to create a barrier of light that took the force of the attack. The dwarf replied by pulling a crossbow out and firing at Zelya while charging it with magic, making the bolt shine bright red. The dwarf scowled when the bolt hit the barrier and bounced off, the magic he enhanced it with to make it stronger turned out to be the very reason it was weak.

Zelya's bow vanished and was replaced by a crossbow of her own that had a bolt already loaded. She fired it, the unenchanted bolt went straight through her Light Shield and into the dwarf's shoulder. The dwarf quickly figured that the barrier only worked on magic and jumped behind a nearby rock to quickly reload his weapon. Zelya began moving towards it, keeping her eyes on the rock for when he poked his head out. The light barrier shrunk in size down to a foot in diameter, floating in front of her left hand. She dispelled her crossbow and replaced it with a new, loaded crossbow. The dwarf listened for Zelya's movements and poked on the crossbow over the rock and fired blindly. Zelya, having seen the weapon, began jumping to the side but ultimately couldn't dodge the projectile in time. She landed behind a mostly destroyed building and grit her teeth. Zelya dispelled her light shield and put away her crossbow knowing she'd be needing a boost in power and, if the dragonkin was as good a fighter as the legends said they were, Evi would need it too.

Zelya put her hands together and closed her hands, her body taking on a gentle golden glow. In a soft voice she said "Divines, grant us your power so we may venture out into this cruel world and face our enemies with valor. Protect our bodies and anoint our blades, guide them to our enemies and increase our chances of victory." A golden wave erupted from her, moving through the broken down building and out to where even Evi and the dragonkin were fighting. Evi would feel a warmth passing through him and a light would shimmer around him before fading. He'd then feel stronger as each of his attributes were increased. Any small cuts would immediately heal over and any large gashes would stop bleeding.

Zelya then jumped out and began charging forward, leaping to a side when she saw the crossbow poke out again and letting the shot miss her entirely. She jumped over the rock the dwarf was hiding behind with a bow in her hand, the arrow already drawn and ready to fire. The dwarf watched as the fiery vixen was over him, his eyes crossing and narrowing on the tip of the arrow just before she fired it. The shot went straight through the eye hole in his rusted helmet, stopping when it hit the back of it and ending her battle. She continued rolling as she hit the floor and stopped with her back on the floor, breathing heavily and letting the adrenaline die out. She then got up and looked in Evi's direction. If Evi were still fighting the dragonkin Zelya would hold her glove out and Evi would feel his physical strength increased by just a bit (0.25), where it would stay until their mission was complete.

Once their battles were over, Zelya would regroup with Evi and give him a gentle smile while saying "You're an incredible fighter, Mister E." with her tail slowly waving behind her. While dogs normally wagged their tails while happy, foxes weren't known for doing so. Their tail waves were used for many communication methods, happiness only being one of them. "Shall we continue?" she would ask and continue to follow his lead.

Total Words: 1,387
DP: 115

~~10 Posts~~
+1.5 to Strength
+1.5 to Control
+1.5 to Perception
+1.5 to Speed
+1.5 to Agility
+1.5 to Reaction Time
+1.5 to Endurance
Lv. 4 Healing Crystal Effect
+5% Mana Regen


Evi ignored whatever the fuzzy fire turkey was doing and focused his attention on the gecko man. Evi glared the warrior down as the warrior did the same. They both charged at one another and Evi's blade arms clashed with the dragonkin's sword. Evi tried to use his tentacle sickles to impale the dragonkin's neck but the lizard jumped back away from Evi and spewed a blaze of fire at Evi. Evi didn't hesitate and charged through the blaze, thrusting one of his blades into the gecko's mouth and out the other end, killing him. "Boring," Evi muttered as he yanked the blade out of his enemy's skull and the tendrils on his back slunk back into Evi's body. Evi left the blade hands ready so that he could be prepared for combat with the main target further ahead. It was unfortunate and rather boring that everyone had to be killed, but that was what the job description was and that wasn't going to change anything; had to make money somehow.

Evi walked back to his, associate, for lack of a better word to describe Evi's feelings about the situation. He seemed frustrated as he walked up to Zelya, who gave him complimentary words and a desire to continue onward. "Don't worry about me and focus on yourself," Evi muttered. Evi noticed Zelya using magic on him and wasn't happy about getting unneeded help from the leader of the phoenix. It was all he could do to not lash out and tell her to fuck off entirely. It really sucked he had to keep his mouth shut in situations like this. It would be so much nicer if he hadn't become the boss and Gensago was the boss instead.

_____________________________
word count: 289
Total words: 817
DP gain: 54
Zelya had sensed the disdain in his words and could figure for herself that he was holding back. She didn't understand why he was being like that and she highly doubted he'd tell her if she asked. Being the newer guild leader for Solar Phoenix, Zelya had ensured that the values of the last leader had remained while also incorporating her own ones. She treated everyone substantially better than she was treated as a child, and avoid using strong words when confronting others. She made sure to read up on cultural information so as to not seem like too much of an outsider, and made sure to be as helpful as possible during team based mission. Her guild had a lustrous reputation for helping Tartaros and the surrounding area, as well as several medals on display in the trophy room. Of course, there were some members who came in and got big heads and tried using their affiliation with the guild to get services, sex partners, or goods with it; but those people were quickly dealt with. The guild had a reputation for being the High King's helpers, but those in Tartaros all knew the story of when the guild turned on the old king for ordering them to attack anyone who opposed him, which resulted in a new king taking his place.
Zelya followed behind Evi, unsure of what his damage was, and stayed quiet while listening for unusual movement. "Mister E, I think we're being followed." Zelya would say in a calm tone. Normally people were afraid when they were followed, but Zelya wasn't made scared by much and being followed was something she was used to. Zelya had paused and began looking around, her ears twitching and stopping when they locked onto the sounds of something moving. Zelya immediately formed a bow and loaded an arrow while aiming it in the direction of the sound, not making a sound. From behind a rotting log, a pair of vile creatures jumped out and began charging at her. Being fairly quick herself, Zelya jumped aside and let the two creatures pass her while forming a dagger in her right hand. Using a bow was only good against slow or ditstant enemies, these things were fast and liked getting close.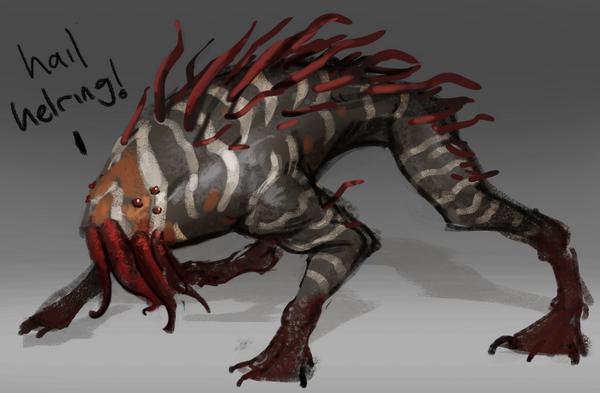 Two more had charged out from seemingly nowhere to attack Evi, meaning that each had two of these... things... to fight. Zelya hadn't known their name, and had only ever heard of the creatures in random conversations she overheard unintentionally. They were pack hunters who lived in massive communities, surviving off of the blood, marrow, and bodily fluids of their enemies. From what she'd heard, they left behind completely dried corpses that were a godsend to lost travelers since the dried meat could be eaten as jerky. Of course, Zelya would never once try such a thing. Zelya waited for the first one to attack but felt a small bit of panic when they both charged her at once. A small gap between them made room for Zelya to spin on her heel while slashing one on the side, the other being safe from such a hit. The one that was cut began balling up something under its face tendrils that Zelya couldn't see much of, but realized what it was after it was spat at her. She didn't fully know the details when she rolled to the side but was damn happy she dodged when she did, when the ball hit the ground and began dissolving it. "Mister E...! Don't let them spit on you! I know being spit on is probably on your list of things to never let happen but it's so much worse if they do it!" she shouted to Evi in a concerned tone, watching the acid-blood spit still dissolving the ground after a foot being destroyed in just a few seconds.
A magic circle appeared in front of Zelya's right hand, signifying that she was using her shielding spell just in case more acid balls were going to be shot. She was hoping there was a bit of magic to them when she went charging forward. Another ball of blood acide was shot and Zelya moved to the side just in case while blocking with the barrier. It seemed that the acid spit was completely devoid of magic when it went through the barrier so Zelya put it away and continued her advance. She saw both of them sending a pair of balls towards her and used her magic glove to fire a pair of orbs at them, hitting the acid balls and deflecting them. She slid on her knees and slashed the same thing she cut earlier across the side of the stomach, spilling its guts and killing it after a few seconds of panicked struggling. The second one watched its partner die before looking at Zelya and letting out a deep growl. It charged her, lifting its tendrils to expose razor sharp teeth. Zelya held her hand out and rapidly fired magic shots one at a time in succession, each hitting a different area of the tentacle faced wolf monster thing and causing it to trip after a few good hits. She then formed a ball of flames and shot it at the creature, incinerating it instantly. She would then look at Evi to make sure he was alright, and if he was, she would keep moving. If he wasn't doing so good and it was obvious he was struggling, Zelya would fire a few magic shots to distract the creature so he could get a hit on it. But that was only if he was struggling.
Total Words: 2,338
DP: 194

~~9 Posts~~
+1.5 to Strength
+1.5 to Control
+1.5 to Perception
+1.5 to Speed
+1.5 to Agility
+1.5 to Reaction Time
+1.5 to Endurance
Lv. 4 Healing Crystal Effect
+5% Mana Regen


Similar topics
---
Permissions in this forum:
You
cannot
reply to topics in this forum